Do you want to have the best tools available to build a website? I have to tell you about Site Build It.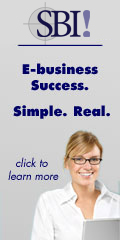 Site Build It? What is "it" all about? SBI is a great way to make a successful website. On SBI, they teach you everything, and I mean everything, about how to make and manage a successful website. I like things that are clear and simple. To see how easy it is to build your own site with this company take the SBI Video Tour here, or you can just read my tips on why SBI is fantastic.
1. It has all the tools to make a webpage. You don't need to know how to make a website to use SBI. There is no need to learn any computer language (html). There is no need to register your domain name, or find a webhost. SBI has all these tools. There is no magic formula, just some great tools all in one place.

2. SBI teaches you how to get traffic. When you make a webpage, you have to connect yours to other spots on the internet. SBI teaches you how to do this correctly. That way you don't have to advertise your site to get visitors. You will make a great site that search engines will rank high. This equals free traffic.
3. SBI finds what other people are looking for. If you have a passion for knitting. SBI lets you search for "knitting" on a brainstorm program. Then you will find what other knitters are looking for. Provide information for these searchers, and you end up with traffic that will want to buy what you're selling.
4. They have the best people out there to help you with your website. Once you join, you can use the SBI forums, post questions and get great advice on how to improve your website. This to me is the most valuable thing there is. Real advice from real people making the internet a better place for all of us.
5. It is an all in one web site builder. Hence the name, Solo Build It. Join, build your site, and make some money spending time on something you love to do anyways.
Below is a video of another SBI'er who has found great success building and managing his website.


I won't lie to you. Building this website was hard work, but
it's paying off
. I have a website I am very proud of, I continue to learn more and more about making it even better, and I get to work on something I love to do. You can't ask for much more than that.
Are you ready for Site Build It?

- Written by David Tiefenthaler


Return from About Site Build It to the running tips homepage.